Upcoming Free Webinars
Sign up for free webinars!

Monday, February 3rd, 9-10am:
Disabilities and Youth with Dr. Tacqueena Quintana
Join here

Monday, February 3rd, 10-11am:
Building Strategic Relationships & Navigating School Politics with Edward Reed
Join here

Monday, February 3rd, 11am-12pm:
LGBT Responsive School Counseling with Sergio Washington
Join here

Tuesday, February 4th, 9-10am
Cultural Considerations for School Counselors with Dr. Don Trahan
Join here

Wednesday, February 5th, 9-10am
School Counseling and the First Generation Latino Student with Dr. Wanda Quezada
Join here

Thursday, February 6th, 9-10am
Suicidal Ideation and Youth with Dr. Tiffany Fuller
Join here

Friday, February 7th, 9-10am
Metnal Illness and Substance Use with Youth with Chandell Miller
Join here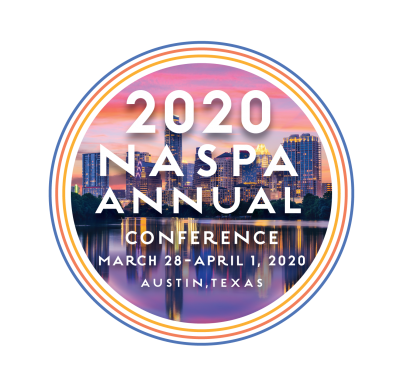 With over 7,000 student affairs educators, the NASPA Annual Conference is the largest event of its kind. With featured speakers who engage participants in thoughtful reflection on the field, over 600 educational sessions presented by student affairs professionals, and networking events that both engage and inspire us to do our work on campus, this event is one not to be missed!
Register here
Most people think of the stars "above" them. However, in Palm Springs, they are literally everywhere you look. Be sure to set your gaze skyward to revel in the timeless, star-studded beauty of the Palm Springs sky and beautiful mountain scenery. Come to Palm Springs where classic and modern meet and find your advising oasis of endless experiences.
Register here
ACPA20 will be an experience that:Amplifies our association values into meaningful calls to action;
Provides pathways for the dissemination of timely and relevant information for our field;
Crystallizes our intention surrounding the strategic imperative on racial justice and decolonization for daily practice; and
celebrates the vibrant and diverse individuals who chose ACPA every day
Register here
AAMFT's Leadership Symposium is an excellent opportunity to meet people who can influence your career and provide connections to propel you towards your next step. This event includes keynote speakers who excel in their field, breakout sessions designed around relevant topics for MFTs, and ample networking opportunities.
The 2020 Leadership Symposium is designed to nurture leadership skills and development in marriage and family therapists who are passionate about advancing the profession and their impact on it.
Register here
This year's conference, "Rupture and repair: Remaking relationships in families and communities," builds on last year's theme of hope and action. We are extending our inquiry into relational activism by examining how things go wrong and what we can do to return to right relation. Inevitably, when we work together, when we commit to solidarity across differences, misunderstandings and hurts can occur. Repair is a process by which disconnection can lead to even stronger connection if we apply certain practices: the focus of this year's conference. We will look at rupture and repair at many levels of relationship, including the environment and non-human beings, always inquiring about what are sustainable strategies for the long haul.
Register here
Each year, the American Educational Research Association (AERA) Annual Meeting is the world's largest gathering of education researchers and a showcase for groundbreaking, innovative studies in an array of areas. Join us at the Moscone Center, April 17-21, 2020, for five rewarding days of ideas, engagement, networking, and professional advancement.
Register here
Since 1985, the Evolution of Psychotherapy conference has attracted worldwide attention as the most respected gathering of master practitioners in the field. Celebrating its 35th year, the conference features faculty members who share ideas, promote convergence, and highlight unifying principles that guide effective clinical work. The conference includes point/counterpoint discussions, state-of-the-art addresses, workshops, clinical demonstrations, dialogues, panels, and conversation hours. Join thousands of your peers from across the globe at the premier educational meeting of the year.
Register here
Since 1985, the Evolution of Psychotherapy conference has attracted worldwide attention as the most respected gathering of master practitioners in the field. Celebrating its 35th year, the conference features faculty members who share ideas, promote convergence, and highlight unifying principles that guide effective clinical work. The conference includes point/counterpoint discussions, state-of-the-art addresses, workshops, clinical demonstrations, dialogues, panels, and conversation hours. Join thousands of your peers from across the globe at the premier educational meeting of the year.
Register here
The NCFR Annual Conference is the premier international event for scholars and professionals dedicated to understanding and strengthening families. The conference convenes juried, cutting-edge research papers, methods, and practices, including research updates for practitioners sessions, and presentation of best practices in the field.
Register here
ATD 2020 is the largest talent development conference in the world and is designed to empower you to drive performance, innovation, and opportunity within your organization through your role as a talent development professional. The keynote speakers are some of the most successful businesspeople in the world. The 300 session speakers are world-renowned. The 400 vendors will showcase innovative learning technology and solutions. They all come together in one place to give you the knowledge that will get you, your learners, and your organization ready for the future.
Register here
Build your school counseling skills and learn about national and state best practices at CASC's 3rd annual Northern California Conference on February 3, 2020 in San Jose, CA. CASC conferences are known for featuring cutting-edge educational content, unique social events, and ample opportunities to network with colleagues and sponsors. This conference includes innovative workshops featuring sessions from industry leaders who will cover topics like effective school-based mental health practices, college and career readiness strategies, suicide and crisis prevention, MTSS, equity and access, and school climate. Attendees will leave the event having exchanged ideas with some of the most engaging minds in the field of education and school counseling with new knowledge they can take back to their work setting and immediately use.
Register here
Fall 2019 Research Workshop Series
Fall 2019 Writing Webinars
Mark your calendars! Join us for the Fall 2019 Writing Webinars. If you have any questions, contact James Hayashi at jhayashi@rossier.usc.edu.
---
Fall 2019 Professional Development Workshops
Join us for the upcoming Professional Development Workshops on August 19, 2019 from 3-7 pm. Please see the flyer for more information.
---
Summer Writing Workshop
Please join us for our Summer Writing Workshops on July 15th and July 22nd. If you have any questions, contact James Hayashi at jhayashi@rossier.usc.edu.
---
Volunteer Opportunity
We are looking for volunteers to share their experience with 40 TRIO Scholars and Dream Scholars who are visiting USC to learn about graduate school on August 1, 2019 from 2:00 PM – 5:00 PM.

If you're interested, sign-up at http://bit.ly/MPOVolunteer
---
SC Summer Webinar
Join us for our SC Summer Webinar on Monday, July 8, 2019 at 6 pm (PST). Join us to hear from James Hayashi, MPO's Writing Advisor, on how to learn an academic writing style without sacrificing your own voice.
---
Free Hosted Reception
Are College Campuses Rewriting the Rules of Sex in America?
Wednesday, October 11, 7:30pm
Dear Rossier students,
Zócalo Public Square invites you to a free program entitled "Are college campuses rewriting the rules of sex in America?" America's college campuses have become crucial testing grounds–and, at times, battlegrounds–as the country grapples with rapidly changing modes and mores of sexual behavior and expression. Fraternities are being scrutinized for promoting a culture of alcohol-fueled male privilege and presumption. Lecture halls and quads ring out with passionate debates about how to set the ground rules for sexual consent. Academic officials are being called to act as judges and arbiters over some of the most intimate aspects of students' lives. Millennials attending college are trying to navigate a highly sexualized environment that's both increasingly liberated and increasingly rules-based, where legal protections are widening but certain forms of privilege and abuse remain entrenched. Vanessa Grigoriadis, contributing editor at The New York Times Magazine and author of Blurred Lines: Rethinking Sex, Power, and Consent on Campus, visits Zócalo to explore how ideas about sexuality, as well as the written and unwritten rules of sexual engagement, are being redrafted at America's institutions of higher learning. The program and reception will be held on Wednesday, October 11th at 7:30 p.m at the National Center for the Preservation of Democracy. Admission is free, and guests must register in advance here
Location & parking information:
National Center for the Preservation of Democracy
111 N Central Ave
Los Angeles, CA 90012
Paid parking is available at the Little Tokyo Mall Public Parking Lot (318 E. First St.) Enter from San Pedro Street. Additional paid parking is available at the Japanese Village Plaza Parking Lot (356 E First St.) and the Office Depot Plaza Parking Lot (401 Alameda St).
Please let us know if you have any questions. Thanks and take care!
Best,
Master's Program Office
---
Academic Symposium
Monday, April 24, 5:00-8:00pm
Dear EC and PASA students,
You are invited to the Academic Symposium on Mon., April 24 from 5-8 pm. The Academic Symposium will be an opportunity for the EC and PASA students to showcase their assessment projects and theses. Please see the attached flier for more details and please RSVP via the link below:
https://goo.gl/forms/iNLAwpk9NDFjjdyc2
Please let us know if you have any questions. Thanks and take care!
Best,
Master's Program Office
---
Continuing Legal Education (CLE): Identity & Social Justice Lunch
Tues, April 18 12:00-1:00pm
Hello Rossier students,
The Center for Education, Identity and Social Justice, the Rossier School of Education's research center co-directed by Shafiqa Ahmadi and Darnell Cole, is pleased to invite you to this academic year's final installment of the Continuing Legal Education (CLE): Identity and Social Justice lunches. These lunches are monthly discussion times where current Rossier students can discuss relevant issues related to identity and social justice facilitated by the center's co-directors.
Our April lunch is scheduled for this Tuesday, April 18 from 12-1pm in WPH B30. We will be discussing how to be a resource and advocate on-campus.
Meals will not be provided so please bring your lunch if you wish to eat at this time. Light refreshments will be available.
Feel free to contact Alex Atashi at atashi@usc.edu if you have any questions or concerns. We look forward to seeing you there!
-The Center for Education, Identity and Social Justice
---
Dialogue on Campus as a Sanctuary
April 20, 2017 12:00-1:30 pm
Dear Rossier Students:
The Pullias Center for Higher Education and Bringing Theory to Practice is sponsoring a panel of faculty, staff, and students on April 20th from 12:00pm – 1:30pm in Taper Hall (TTH) 210 to discuss: Who feels (un)safe on campus? When? Where? And How? The panel will focus on international and religious minority students, staff, and faculty.
The facilitators will be Professors Shafiqa Ahmadi, Zoë Corwin, and Tatiana Melguizo.
If you would like to attend, please RSVP with Diane Flores (dianeflo@usc.edu).
Please see the attached flyer for more information.
---
Exploring Careers in Education – Rossier Graduate Student Panel and Discussion
Tuesday, April 11
WPH 403
3pm-4pm
Dear students,
Please see the attached flier for the Exploring Careers in Education Panel, featuring current Masters students as well as EdD and PhD students. Please RSVP via the link below. For more information please refer to the attached flier or contact Vanessa Ault at vault@rossier.usc.edu. Thank you and take care!
Best,
Master's Program Office
Panel Members and their current programs:
Pattrick Paterson – Doctor of Education in Educational Leadership
Cynthia Rodriguez – Doctor of Philosophy in Urban Education Policy
Solomon Matthews – Master of Education in Postsecondaty Administration and Student Affairs
Dominique Lightsey – Master of Education in Postsecondaty Administration and Student Affairs
Pooja Parashar – Master of Mariage and Family Therapy
Javier Mulato – Master of Education in Educational Counseling
Denise Fisher – Master of Arts in Teaching – Teaching English to Speakers of Other Languages
RSVP here: https://rossier.usc.edu/um/graduatepanel/
---
MFT Job and Internship Fair
Friday, April 21, 2017 from 10:00am-1:00pm at The Grand in Long Beach (4101 East Willow Street)
Hello,
I'm writing to invite Rossier's MFT students and alumni to attend the 10th Annual MFT Job and Internship Fair hosted by Long Beach-South Bay Chapter of CAMFT (California Association of Marriage and Family Therapists). We have invited employers from all over Southern California to come and meet therapists (both licensed and pre-licensed) who are seeking positions in the mental health field. We've had wonderful success over the years at helping therapists find open positions (jobs, internships, and practicum placements) at local agencies and in private practices. Our website has the current list of attending employers (bit.ly/jobfair10) and is updated as new ones sign up.
In addition to the employers, we also have Round Table Discussions which focus on topics of interest to the attendees, such as how to get a private practice internship, interviewing and resume support, and BBS representatives who can answer questions. They're ongoing throughout the event, so attendees can drop in whenever it's convenient. We are also offering low cost professional headshot photos so that attendees can have a professional photo to use for LinkedIn, their website, etc.
This year's Job Fair will take place on Friday, April 21, 2017 from 10:00am-1:00pm at The Grand in Long Beach (4101 East Willow Street). As you'll see from the flyer, there's a $10 charge to attend ($30 if they want a headshot) if registering online or an additional $5 at the door. More information and registration information can be found on the event page: bit.ly/jobfair10
If you need any further information or assistance, please do not hesitate to contact me.
Sincerely,
Hayley Casselman
(818) 469-4562 (cell)
—
Hayley Casselman, M.A.
Licensed Marriage and Family Therapist
25550 Hawthorne Blvd. Suite 316
Torrance, CA 90505
ph: 310-375-8185 ext. 107
hayley.casselman@gmail.com
www.hayleycasselman.com
---
Please join the Graduate School for an
OPEN HOUSE RECEPTION
WEDNESDAY, FEBRUARY 22, 2017
2:00pm — 3:30pm
STU 301
We will be displaying new graduate student sub-mitted artwork on our walls. Please pop in, say hello, have some refreshments, and enjoy our new art!
RSVP: annenberg.fellows@usc.edu
---
Greg Henderson Memorial Service
When:
Sunday March 5, 2017, 11am – 4pm

Where:
Henderson-Freeman Home,
2307 Glencoe Avenue, Venice, CA 90291
Please join Mazzy and me in a celebration of the life of Dada/Greg Henderson. Greg made a profound impact on the lives of many people in his much-too-short time with us and we look forward to sharing with you what Mazzy is calling the "happy party". Four-year-old Mazzy has LITERALLY planned the whole thing herself.
On Sunday, March 5, 2017, we'll have our home open from 11am-4pm to give family, friends, students, and colleagues a chance to come and go as you please and to spend time with us. Food, drinks, music, and love will be plentiful.
Mazzy has made a Dada box to collect the things she loves and remembers about him. If you have a favorite picture, a story, a joke, or a memory, Mazzy and I would love to have them placed in the box so we can know more about him from those who knew him in his various and sundry worlds. We'll also have spare pens and paper if you like to be spontaneous.
Mazzy will have a helium balloon station where you can write a note to Greg and release it into the sky. Not the greenest of ideas – but we'll secure a carbon credit offset somewhere.
Mazzy and Dada recently built a raised planter for vegetables and herbs. Mazzy and I will have some seedlings and seeds and ask anyone who wants to plant one for him to do so. She and Greg planted two sunflowers the weekend before he went into the hospital so we will have to work around those!
Mostly, Mazzy and I want to invite you into our home to help us say goodbye to Dada/Dr. Greg and to celebrate all that he gave us.
In lieu of flowers we have several options to honor Greg if you're interested. Mazzy, teaching, and education were the running themes of his life, so we've chosen to follow that lead in our selection. Feel free to pick one, none, or all.
A 529 College Fund for Mazzy
Checks payable to:
Marie E. Henderson-Freeman Account #87615979
c/o James Mayorkas
Wells Fargo Advisors
1999 Avenue of the Stars, Suite 2200
Los Angeles, CA 90067
A Scholarship Fund for LGBTQ students in the MFT program at USC's Rossier School of Education where Greg had been teaching for the past 7 years.
USC Rossier Endowed Scholarship Fund in the USC Rossier School of Education. Gifts can be made online in memory of Greg or sent directly to USC. Checks payable to USC (with "In Memory of Greg Henderson" in the memo line) may be mailed to:
USC Rossier School of Education
Attn: Diana E. Hernandez, Director of Development
3470 Trousdale Parkway, Waite Phillips Hall, Ste. 1103
Los Angeles, CA 90089-0031
A Scholarship Fund for LGBTQ students in the MAP program at Antioch University, Los Angeles where Greg received his Master's degree and taught many courses over the years. You can go to the website www.antiochla.edu/giving and select the MA Psychology Department Scholarship where you can earmark the donation in Greg's memory. Or you can mail a check to Liz Crozer with the memo line "In Memory of Greg Henderson".
Liz Crozer
Director of Institutional Advancement
Antioch University Los Angeles
400 Corporate Pointe
Culver City, CA 90232
Please RSVP to GregHendersonMemorial@gmail.com by March 1, 2017 if you would like to attend.
---
Pasadena Community College's Office of Human Resources is hosting a workshop this Saturday on how to apply to faculty positions at the college. Below are the event details: Applying and Interviewing for a Full-Time Faculty Position at a Community College
Saturday, February 11 – 9:00 AM in Harbeson Hall
Presented by:
Armando Duran – Dean, Counseling and Student Success Services
Amy Ulmer– Dean, English
Graciela Caringella and Yuri Pérez – Human Resources
---
Department of Spanish and Portugese – Individual Differences and Linguistic Knowledge in Heritage Speakers
Dear Rossier students and faculty,
Next Thursday, January 26th at 11:00 (ACB 238), Dr. Julio Torres will be delivering a talk on cognitive processes of heritage speakers, entitled "Individual Differences and Linguistic Knowledge in Heritage Speakers" (see abstract in the flyer attached). We thought this talk may be interest to some of you.
The talk will be recorder and streamed via Bluejeans (please note that remote participants will be able to submit questions). In order to join the live stream, please click the following link a few minutes prior to the start of the event: https://bluejeans.com/536104550
Big thank you to the Department of Spanish and Portuguese for sponsoring this event. See below for more information
I hope to see you all there!
Best regards,
Goretti Prieto Botana, PhD
Assistant Professor (Teaching) of Spanish
Director of the Basic Language Program
Department of Spanish and Portuguese
University of Southern California
213.740.3461
---
The Department of Spanish and Portuguese invites you to a lecture by
Dr. Julio Torres
"Individual Differences and Linguistic Knowledge in Heritage Speakers"
Thursday, January 26, 2017, 11:00AM
Taper Hall of Humanities (ACB) Room 238
University of Southern California
A growing interest has emerged among linguists and educators in better understanding the grammars and linguistic experience of heritage bilinguals. Research has documented that heritage speakers' grammars differ from their monolingual peers. We now have evidence that certain linguistic structures are vulnerable in the path to heritage bilingualism. This is complicated by the fact that heritage speakers' knowledge of these linguistic structures seemingly depend on the explicitness of the language task as well as oral and written modalities. Additionally, studies have investigated how heritage speakers' individual profiles can vary as far as their attitudes and motivations toward the heritage language. In this talk, I present data that examine the relationship between Spanish heritage speakers' linguistic knowledge and individual differences — language attitudes, motivation, willingness to communicate, language use among others. I discuss the individual differences that predicted participants' performance on two language tasks manipulated for explicitness and modality. Finally, I conclude with how the findings can inform pedagogical and assessment considerations when working with heritage language learners.
---
USC Events for 2017 Presidential Inauguration
Dear Master's Students,
In an effort to provide students with support and resources during and after the presidential inauguration on Jan. 20, 2017, USC Student Affairs is in the process of creating a comprehensive list of related events taking place around that time. Please see below and also the following link for more updates: https://studentaffairs.usc.edu/post-election-open-conversations/.
Please let us know if you have any questions.
January 20, 2017 (Inauguration Day)
8:00-10:30 A.M.: Presidential Inauguration Viewing

USC Annenberg Center and Unruh Institute of Politics (Wallis Annenberg Hall) will hold an informal viewing event. It will include an open conversation with students, faculty and staff before and after the ceremony with special guest Justin Wallin, Probolsky Research COO/CMO. Coffee and pastries will be provided.

8:30-11:00 A.M.: Alternative Inauguration Programming

CBCSA (STU 415), APASS (STU 410), and LGBT RC (STU 202B) will have informal open space for conversations. USC Cultural Centers & #TogetherUSC will be hosting a series of programs and conversation space for all students to join. Staff will be on hand to support students, assist with critical conversations, and discuss inclusivity and the Trojan Family.

9:00 A.M.-4:00 P.M.: El Centro (STU 402) will show various alternative inauguration films and shows.
11:00 A.M.: Student Demonstration at Tommy Trojan (see attached flyer for details).
12:45 P.M. Office of Religious Life (URC 106) will be walking to mosque Masjid Umar Ibn Al-Khattab, showing solidarity and support for Muslims. The prayer session is open to all community members and will be done in partnership with progressive Christian student groups and the LGBT Resource Center.
1:30–5:00 P.M.: Free Expression Space

Cultural Center Staff and Counseling Center Staff (TCC 302) will provide a guided expressive space, through various art mediums.
January 22, 2017
10:00 A.M.-3:00 P.M.: The 6th Annual USC Latino Student Empowerment Conference: Research & Practice aims to support the research, academic success, and social justice activism of USC students. The Conference is open to undergraduate and graduate students, new spring admits, and alumni. RSVP by January 18, 2017.
---

---

---
USC Rossier School of Education Co-Doctoral Online Information Session
Description:
Considering a Ph.D or Ed.D? Want to learn more about our online doctoral programs or flexible on-campus course schedules? Need more insight about the different application processes?

If so, please join us online to learn about the four doctorate degrees offered at the USC Rossier School of Education and to get your questions answered. You'll have the opportunity to meet with the Director of the Ph.D., Senior Assistant Director of the Educational Leadership Ed.D, and the Program Specialist for the Global Executive Ed.D.

Don't miss out on this special opportunity to meet and learn how you can become a leader with the skills and knowledge necessary to succeed in the 21st century.

Category:
Online Information Session
Host(s):
Robyn Lewis
Contact Phone:
213-740-6019
Contact E-mail:
geedd@rossier.usc.edu
Starts On:
28 Oct 2016 01:00 PM PT
Ends On:
28 Oct 2016 02:00 PM PT
Location:
Online
Address:
Adobe Connect
Details/Directions:
Please note, you will receive an Adobe Connect link a few hours before the session.
Status:
Accepting registrations
Link to register here
---

Hello Rossier Students, Staff, and Faculty,
You are cordially invited to the Rossier Student Organization (RSO) "Get to Know RSO" Ice Cream Social! Come learn about RSO, meet members of the RSO Executive Board, and make an ice cream sundae! Ice cream social is on Wednesday, September 21st from 1:00 p.m.-4:00 p.m. in Waite Phillips Hall Basement B-30. Can't wait to see you there!
Best,
Serina Bravo
Rossier Student Organization Social Chair
---
Denim Day
For the past 17 years, Peace Over Violence has run its Denim Day campaign on a Wednesday in April in honor of Sexual Violence Awareness Month. The campaign was originally triggered by a ruling by the Italian Supreme Court where a rape conviction was overturned because the justices felt that since the victim was wearing tight jeans she must have helped her rapist remove her jeans, thereby implying consent. The following day, the women in the Italian Parliament came to work wearing jeans in solidarity with the victim. Peace Over Violence developed the Denim Day campaign in response to this case and the activism surrounding it. Since then, wearing jeans on Denim Day has become a symbol of protest against erroneous and destructive attitudes about sexual assault. In this rape prevention education campaign we ask community members, elected officials, businesses and students to make a social statement with their fashion by wearing jeans on this day as a visible means of protest against the misconceptions that surround sexual assault. This year's Denim Day is April 27, 2016.
22nd Annual Lavender Celebration
Are you a LGBTQQIA-identified student or ally at the University of Southern California? Are you graduating in May 2016? Sign up to take part in our FREE graduation ceremony honoring your achievements and success as a LGBTQ+ student at USC! Lavender Celebration (commonly known as Lavender) is an annual graduation ceremony for LGBTQ+ and ally students. Similar to the other graduation ceremonies sponsored by other student cultural groups, Lavender honors students and commemorates their
contributions to the University community. Invite your friends, invite your family–the more the merrier. Following the ceremony is a reception with food and drink.
The ceremony will be held on SUNDAY, MAY 1st, 2016. It is open to undergraduates, graduate students, and doctoral candidates alike. Join your queer Trojan community, including the Lambda LGBT Alumni Association, in celebration!
We are beyond excited to host Mayor Robert Garcia, the first openly gay mayor of Long Beach, as our key note speaker. As a gay man of color and child immigrant, he truly represents the diverse and inclusive nature of today's LGBTQ community in Southern California. Dennis Cornell, the chief of staff for the President Nikias will also speak as our administrative representative.
To register as a graduating student in the ceremony, please fill out this form: https://usc.qualtrics.com/SE/?SID=SV_3mbfz4Ab5LU9Sa9
For guest RSVPs, please visit this link: https://usc.qualtrics.com/SE/?SID=SV_bpfsXTXohsCYfEV
A facebook event also exists, as well (please note that attending on facebook does not mean you are registered for the ceremony. Please fill out the qualtrics links above): https://www.facebook.com/events/1041290942609153/
If you have any questions, please email the LGBT Resource Center at lgbt@usc.edu.
This event is held in conjunction with the USC Lambda LGBT Alumni Association, the Queer and Ally Student Assembly, and the Queer Graduate Alliance.
---
Undocumented Students, College Access, and the 2016 Election
Mark your calendar! The National Forum on Higher Education for the Public Good and the National Center for Institutional Diversity will host a free webinar on Monday, April 18th, from 2:00-3:30 PM Eastern Time.
The webinar will address implications of the 2016 election for educators and policymakers working to effectively support undocumented and DACAmented students' access to higher education and will feature experts representing K-12 education, postsecondary education, and state-level education policy.
Registration will open shortly. We will follow up with a link to register for the webinar and additional details.
---
Graduate Student Appreciation Night on Thursday
The Graduate & Professional Student Casino Night is an appreciation event for graduate students hosted by the Office for Residential Education on this Thursday, March 24th at 8pm in King Hall. The night will include tables for blackjack, roulette, poker, and craps, as well as a chance to win big prizes. There will also be several other booths, including live performances, a wedding chapel photo booth and tarot cards and palm readings.
---
INVITATION: UNDERGROUND / Special Screening at Ace Hotel (March 2nd)
Greetings!
This Wednesday, March 2nd at 8pm is the Underground world premiere private screening with the cast taking place at The Ace Hotel (see attached for the invitation).
If you are interested in attending the premiere this Wednesday, make sure to RSVP to UndergroundWGNRSVP@thaweb.com or UNDERGROUND@BENARROCHPRODUCTIONS.COM
Also, FREE Underground T-shirts are available in the CBCSA office (STU 415). Stop by and get one!!
Please see the flyer below:
---
GETTING THE MOST OUT OF CENSUS DATA
Keeping Current @ the USC Libraries Workshop Series
Tuesday, January 26, 2016, 10:30-12:00
Science & Engineering Library, Room 108
Please join us!
The U.S. Census contains a wealth of data useful to many disciplines. In this workshop, Luz Castillo of the Census Bureau will give an overview of what data the Census collects, the cycle of data collection, and how data can be used. You'll not only get an overview of the most commonly used information from the Census, but will also learn about the detailed economic and socioeconomic data available through the Census's many other surveys. You will also learn about the different ways datasets are made available to researchers for further analysis.
Presented by: Luz Castillo, Data Dissemination Specialist, U.S. Census Bureau
---
Webinar this Friday: Where do we go from here? Demonstrating sensitive, caring and justice-centered leadership
Webinar – Friday, November 20th at 11am
About
In order to advance the conversation among student affairs professionals, we have convened a roster of leaders in our field to candidly discuss ways that our profession and our institutions should move forward.
Please join us for this free online live briefing at 2 pm ET/11 am PT. You do not have to be a NASPA member to attend. You will be given an opportunity to provide comments and ask questions in advance of and during the briefing.
This briefing will be hosted by NASPA President, Kevin Kruger. Dr. Kruger will be joined by:
Dr. Shaun Harper, University of Pennsylvania
Dr. Larry Roper, Oregon State University
Dr. Penny Rue, Wake Forest University
Dr. Sumun L. Pendakur, Harvey Mudd College
Dr. Sam Museus, Indiana University
Miguel Macias, DePaul University
---
Show Me the Data: Finding Statistics & Data for Research & Policy
Live Webinar – Monday, November 23rd at 6pm
Need help finding evidence to support your research? This webinar is for you! The one-hour presentation and Q&A will help you identify strategies for finding statistics and data on the public sector (including education) and the private sector and will demonstrate how to retrieve current demographic, social, and economic data from the U.S. Census. Come learn how to find statistics to investigate gentrification, homelessness, the teacher pipeline, mental health services, college attrition, and more.
Recording of the session will be made available for later viewing.
Presenters
Katharin Peter, Social Sciences Data Librarian
Melanee Vicedo, Head, Education & Social Work Library Services
Date & Time: Monday, November 23, 2015 at 6pm
Live Access: http://usclibraries.adobeconnect.com/datafind/
RSVP to Attend: http://bit.ly/OCLdata
---
Invitation to Graduate Diversity Social
Vice Provost for Graduate Programs Sally Pratt, the USC Graduate School, and the Graduate Student Advocate for Diversity Outreach would like to invite graduate students, faculty, and staff to our Fall Graduate Diversity Social.
Date & Location
Monday, November 16th, 2pm-4pm, in Dauterive Hall Lower Level Atrium
RSVP
Please RSVP by Friday, November 13:
Additional Information
Email: graduate.diversity@usc.edu
Website: http://www.usc.edu/schools/GraduateSchool/
Telephone: (213) 740-9033
---
USC Rossier Doctoral Info Session
Students & Staff,
You are invited to attend an information session to learn more about the USC Rossier Doctoral Programs.
DATE: Monday, October 19
TIME: 6-7:30pm
PLACE: WPH 403
Representatives from the Educational Leadership EdD, Global Executive EdD and PhD programs will be there.
Please rsvp to rsoephd@rossier.usc.edu.
---
2015 Fall Semester Graduate Mixer
We are happy to invite YOU to the granddaddy of all 2015 Fall semester graduate mixers. What better way to take on networking than to socialize with every graduate student from USC, including Viterbi, Gould, Leventhal, Annenberg, Roski, Cinematic Arts, Rossier, Keck, Price, Social Work, and others?
Whether you want to have a drink with your colleagues, eat some great food, or just socialize, please make some time this Saturday, October 3rd.
There will be FREE FOOD! That's right! We will be serving free food and other surprises will be provided. This is your time to get to know other grad students and expand your horizons. Let us emphasize that other SURPRISES will be provided!
This event is FREE but you must be a USC grad student and bring both your USC ID and a government-issued ID because the area will be fenced off.
Location: USC campus at McCarthy Quad
Date: This Saturday, October 3
Time: 3:30pm-8:00pm
---
Thesis and Dissertation Submission Information Sessions
As the thesis and dissertation submission deadline approaches for the Fall 2015 semester, the Graduate School will host information sessions detailing the thesis submission process on two Wednesdays in October. The University Park Campus sessions will take place on October 7th, in THH 301 at 12:00 pm and THH 102 at 5:00 pm. The Health Sciences Campus session will take place on October 14th, in MCH 156 at 12:00 pm.
Topics will include important information for both students and advisors, such as:
Thesis Center navigation
submission deadlines
required documentation
There will be an opportunity for questions following the presentation. Please mark your calendars. Should you have any questions, please feel free to contact Samuel Mantell, Academic Services Coordinator at (213) 740-9033.
http://www.usc.edu/schools/GraduateSchool
---
PASA Lunch with APASS
The Asian Pacific American Student Services Office cordially invites you to have lunch with us on Wednesday, September 30th, from 12pm-1pm in STU410.
This is a great opportunity for you to learn about one of the cultural centers at USC. As PASA graduate students, you have the opportunity to take graduate field units or volunteer in APASS during the academic year. The list of projects available are: Assessment & Benchmarking, Student Welcome, Research, and Program Review.
To RSVP, please visit:
If you have questions, please do not hesitate to contact me at gdayrit@usc.edu.
Thank you for your time and hope to see you next Wednesday!
Kindly,
Gelli Ann Dayrit
APASS Graduate Assistant
---
Invitation — Graduate Student Lunches w/ the Vice Provost for Graduate Programs
Dear Graduate Student,
Please join the Vice Provost for Graduate Programs, Dr. Sally Pratt, for lunch on Monday October 12, 2015 on the University Park Campus (UPC) or on Friday October 16 on the Health Sciences Campus. All USC graduate students are welcome to attend.
This event is an opportunity to engage with Dr. Pratt on a variety of topics related to graduate and professional students, including your own concerns and discussion items. Dr. Pratt is interested in hearing your news, updates, and questions, and she would like to hear what you think the USC Graduate School does well, what it could improve on, and how.
Each luncheon will be limited to 20 graduate students. Because space is limited, your RSVP does not guarantee you a seat. The location of each event will be communicated in a confirmation email to the first 20 students (per event) who express their interest in participating here: http://goo.gl/forms/IsdqryRsVX.
Thank you for your response. I look forward to meeting you!
Sincerely,
Alison Kozberg, Graduate Student Advocate for Student Relations
---
USC Rossier PhD in Urban Ed Policy – Upcoming Info Sessions
---
Brownbag: Graduate Student Wellness and Self-Care
Date: September 15th
Time: 12:00pm
Location: TBD
RSVP: https://usceducation.az1.qualtrics.com/SE/?SID=SV_blKs1OIJxqDebUp
Introduction to Graduate Writing
Date: September 21st
Time: 3:00pm-4:00pm
Location: TBD
RSVP: https://usceducation.az1.qualtrics.com/SE/?SID=SV_aUWSWBM8wFOzMQl
Brownbag: Developing Your Professional Identity
Date: September 28th
Time: 12:00pm
Location: TBD
RSVP: https://usceducation.az1.qualtrics.com/SE/?SID=SV_9ZA6BmDoGZ3giDb
Resume Speed Review
Date: October 5th
Time: 5:00pm-6:00pm
Location: TBD
RSVP: https://usceducation.az1.qualtrics.com/SE/?SID=SV_261n6PqKnjCqXuRMPO Co-Curricular Offerings Fall 2015 Tentative